SUGARTIME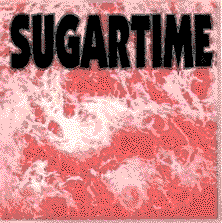 In 1992, Richard J. Hutchins formed SugarTime with Norman Westberg (of Swans & Fetus), Robert Chemberlin, & Jason Asnes (of Nice Strong Arm). They released 2 singles, then broke up in 1994.
Richard was the drummer & graphic artist of the band, creating the artwork for their logo, gig posters, cap, the t-shirts, and both single covers, including the single shown at right, which was on Simple Machines Records.
You can order the AWESTRUCK single, in red vinyl, for $15.00, by check or by credit card using PayPal. ONLY FEW COPIES LEFT!
©2006 Richard Hutchins. November 14, 2006